Organize
Cavok helps you to better organize your files. For this purpose, the DAM system provides several options: Work with the familiar folder structure as you are familiar with, or break free from this classic structure.
Work with the file server as you are used to
Cavok is one of only a few digital asset management systems that allow you to work in the familiar folder structure of the file server. For many users this common way of organizing data is still the simplest way of working.
Read more
The cavok service on the file server monitors the file system and immediately registers every change, e.g. creation, movement, deletion or renaming of directories and files. Instead of permanently crawling or scanning the servers hard disks, changes are immediately detected and displayed in the DAM system without any time delay. Every user can therefore choose between using the file server or access via the web browser. The current data status can be seen everywhere.
Create category folders without affecting the basic structure
Categories are "virtual" folders whose contents can consist of many different files from different folders. A file can be assigned to multiple categories without creating duplicates.
Read more
The file assigned to a category remains stored in the folder of the classic folder structure. It can be found additionally via the respective category. This allows users to create their own structure without affecting the overall structure for all other users.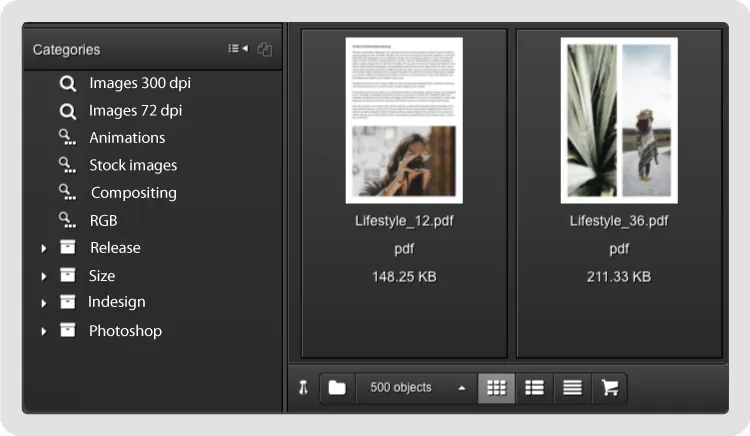 Stack view for a better Overview
Assets can be visually grouped into a stack. For example, all images from a product shoot can be grouped into a stack. This makes the user interface clearer and users can see directly which images belong together.
Read more
Each stack has a title image. All digital assets connected to each other by relations are visible in the detail view. The view can be changed by the user at any time, so that he can see: 1. all images, 2. all stacks or 3. all stacks and all images that do not belong to a stack.
Save data for a long time in media archives
Completed projects and data that have not been used for a while can be automatically moved by cavok to a disk, tape or cloud archive. The highlight: metadata and previews of files can remain in cavok and only the high-resolution originals are outsourced.
Read more
Archived files can therefore remain visible and findable in cavok, but are marked with a clear, visual label in the user interface. Using the action menu in the digital asset management System, archived files can be retrieved from the archive with a single click and are then directly available again. Archiving can be done with for example Archiware P5 or other systems.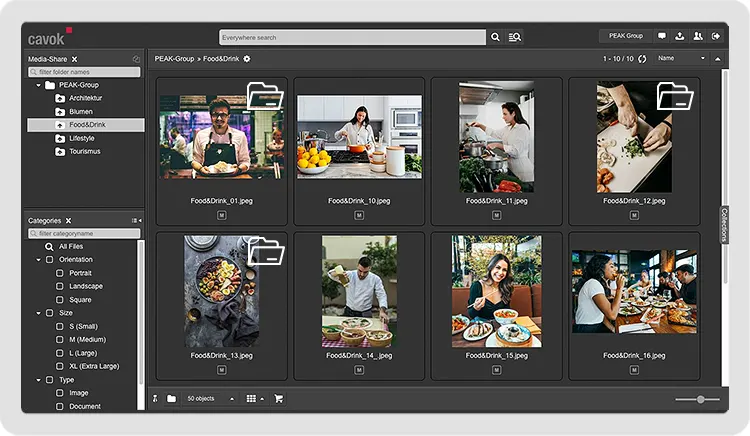 Process multiple files simultaneously
With the help of batch processing several files can be, for example, renamed at the same time. It is possible to append sequence index numbers or letters, metadata, folder names and much more. Also the conversion is done with this function in seconds.