Workflows & Automation
In media creation, the efficiency of collaboration between all parties involved determines costs, responsiveness, and error rates. Before being released for publication, a media file usually passes many correction loops. Cavok is particularly suited to shorten correction loops, improve the workflow in the company and reduce the possibility of errors.
Automated workflows for people and applications
Cavok accelerates collaboration by performing work steps automatically: sending data after approval, updating information in the web store or notifications of corrections are just a few examples. Workflows can be designed significantly more efficient and faster through the automation possibilities of cavok.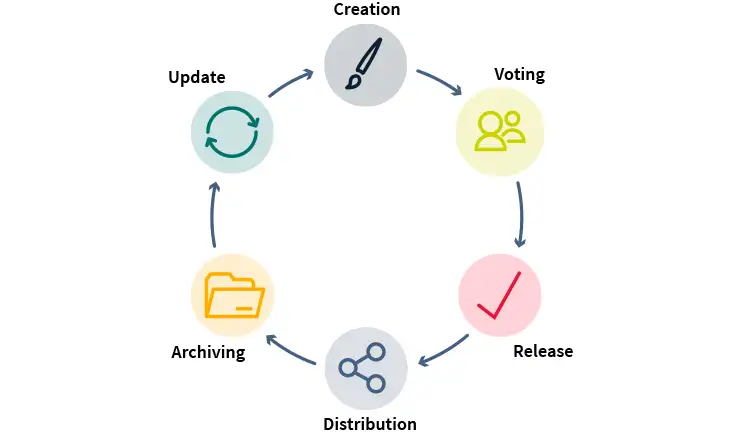 Automatic notifications on defined events
Users can be automatically notified by e-mail about important events, such as the release of a file. Template sets can be created and edited for this purpose.
Integration of custom scripts
The cavok system can be extended using standard scripting languages. This serves for easier automation and linking with other systems. The customizations are created as scripts in a separate script development layer - separate from the core of the system.
Read more
The integration of external scripts can be done by PEAK-14 as well as by the own IT or external employees.
Possible script languages:
Perl
Bash
Python
Ruby
Applescript
PHP
Javascript
Automatically fill smart categories
Files are automatically assigned to smart categories based on predefined criteria, such as the content of certain metadata. For example, all files waiting for release could be displayed collectively.
Capture metadata where the pictures are taken
Metadata should be captured where images are created? With cavok, the photographer can upload the product images directly during the shooting and add metadata automatically.
Inherit metadata automatically
Metadata can be pinned to folders and categories and automatically inherited by all files within them. When a file is moved, the inherited metadata also changes. This makes it easy to automate metadata maintenance.