Digital Asset Management for the Construction Industry
Optimize your workflows with Cavok
Safety and control: manage all documents and media of your construction project in one place and always stay on top of things.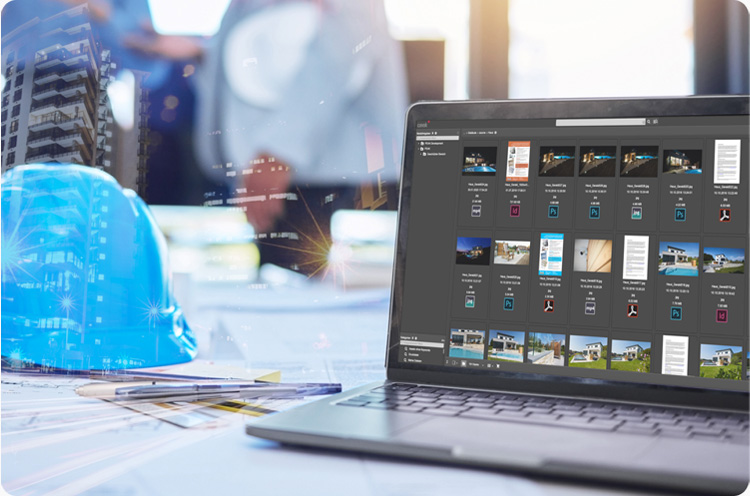 Central management of construction plans and 3D models
Cavok DAM can store and manage digital assets such as CAD files, 3D models, construction plans, photos and videos in a central location. It also provides previews for files without having to use the actual software. Sharing this data is also very fast and effortless.
Efficient collaboration
Team members from around the world can collaborate on projects, exchange comments and feedback, as well as share and distribute documents.
Quick access
As all documents of a construction project are stored centrally, the search is facilitated and the time spent on it is reduced.
Nothing gets lost
Documents, images, emails and all project-related information can be archived and stored long-term.
Increase productivity with automated workflows
Tagging assets, converting them into the appropriate format, entering them into other programs, informing colleagues and keeping everything up to date. Interfaces and automated workflows make such processes superfluous for employees to deal with.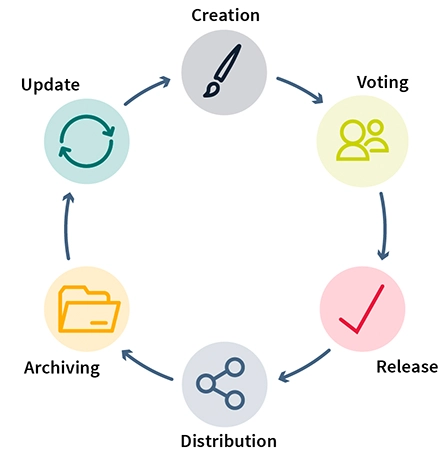 Automatic notifications for defined events
It is possible to automatically inform users by email about important events such as the release of a file. For this purpose, email templates with placeholder texts can be created and customized.
Automatic translation of keywords
Automatic conversion of files
Automatic assignment of metadata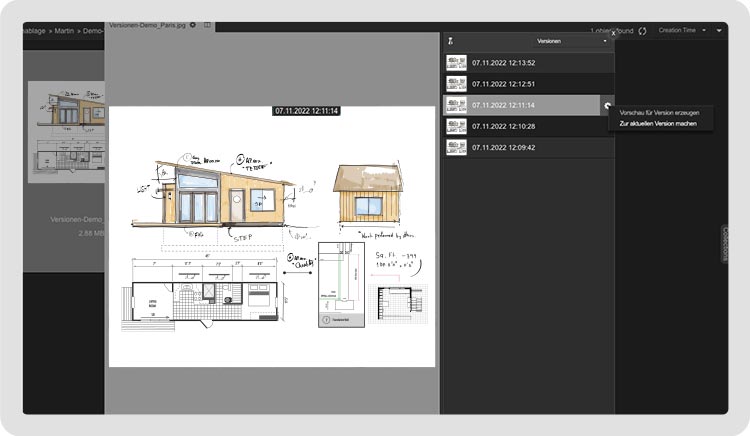 Always the right version at hand
Cavok ensures that all document versions created during the construction process are well organized and accessible. This prevents employees from accidentally working on outdated documents and guarantees that everyone involved is always up to date.
Get a clear overview of construction projects
Cavok can help project managers and architects manage construction projects more effectively by enabling them to tag and organize digital assets their own way. Features like automatic geotags, batch processing, and individual metadata fields can assist in this process.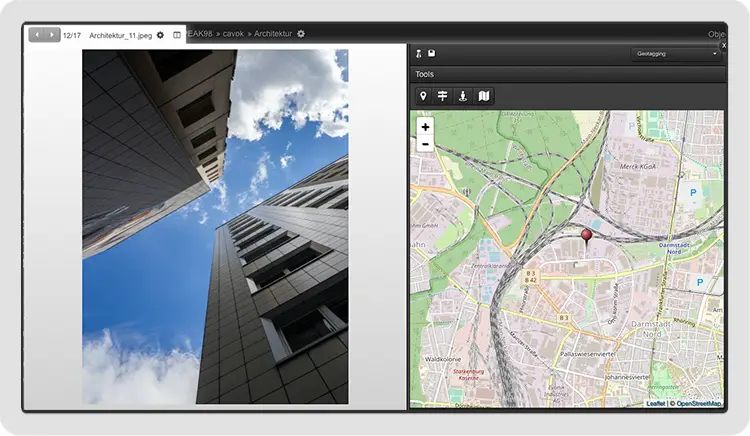 Structured storage of emails including attachments
You can simply drag and drop emails from mail programs such as Mail (Mac) or Outlook into Cavok. The platform extracts attachments and embedded images and adds them as separate assets. The mail text is displayed as a preview and can be searched using the "Search content text" function. The duplicate filter helps identify attachments that have been sent multiple times.
You decide where to store your data
During a construction project, a lot of sensitive information is created that needs to be stored securely, such as construction drawings or plans. Cavok can keep them safe and secure by controlling access rights to assets and providing audit-proof archiving. You decide whether the data should be in the cloud, as a hybrid solution or on your own servers!
In the cloud
On your own server
As a hybrid solution
Be faster than others
Cavok can improve collaboration between different teams involved in the construction process. With the ability to share and edit documents in real time, teams can collaborate more effectively and complete projects faster.
What our customers say about Cavok

Sascha Thönges
Media designer and producer, Sebapharma

Mario Elsner
Marketing, Zahnärztlicher Fachverlag

Anne Hahnenstein
Marketing, Dehner GmbH

Nicole Hennig
Marketing, Deutsche Hospitality AG

Alexander Zindler
Head of E-Business, Grube KG
Questions that might help you.
Where are the servers for the Cavok DAM Clouds located?
The security of their own data is a top priority for many companies. Therefore, when selecting the storage location, we attached great importance to the fact that the servers are located in Germany and are subject to European laws.
For which 3D programs does Cavok provide file previews?
Ensure a good foundation
with the Cavok DAM system
You want to check the costs first?
No problem! Get an overview of our prices and licence models.
Try our extensive demo version
Sign up for a 30-day trial to get a feel for the software.
Try Cavok for free
Get a product presentation
In a small webcall we discuss your needs and check how Cavok could help you.
Contact us