How the new TYPO3 DAM interface makes working with Cavok easier and more flexible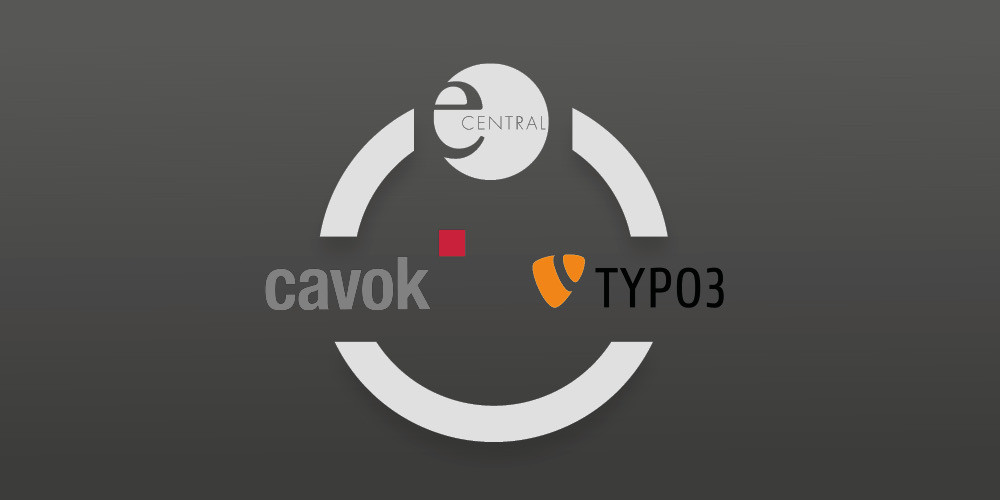 For creating online content editors in companies and agencies mostly use content management systems. In addition, it is ideal for them to also work with a digital asset management system for storing all their media files.
But how do DAM and CMS systems communicate with each other? And how is the connection of a CMS to a DAM system actually implemented? The connection between our DAM system Cavok and the TYPO3 CMS – a well-established content management system – shows how the systems interact. Working with Cavok has now become even more attractive.

A completely natural "marriage"
In recent years more and more users who work with both Cavok as a DAM system and TYPO3 as a CMS have been interested in an easy way to connect the two systems, meaning integrating Cavok assets into TYPO3 without much effort. In order to meet these requests accordingly, we have entered into a partnership with the technology company eCentral, specialised in TYPO3 and located in Marburg/Germany.

Christoph Lauber, Managing Director of eCentral Ltd., describes the impetus for this collaboration as follows: "The idea was to make TYPO3 stronger by integrating surrounding systems, for example into DAM systems. I am enthusiastic about TYPO3, but unfortunately it is nowhere near as good as a digital asset management system when it comes to media data management. Cavok has clearly more to offer in this respect. Cavok offers a number of very nice features, it is flexible and easy to use. Assets from other systems are accessible via a general API. Therefore, it has been a natural "wedding process" to bring the two systems together. The intent was to create a specific interface performing at all times that is scalable and can also be used in other contexts. For editors, the solution should not be complex as witchcraft, but should make their everyday work easier."
With more than 20 years of experience, eCentral is an excellent specialist for TYPO3 technologies and a cooperation partner of TYPO3 Ltd. As a TYPO3 Gold Member, the company supports the association financially and ideally and holds voting rights. Being part of a programme for "verified extensions", established in 2021, the technology expert is obliged to guarantee future security for the CMS with an extensive development plan and is also striving for a "verified extensions" status for Cavok. This will ensure that whenever a new product version is released, the methods and interfaces developed will continue to function smoothly.
Therefore, strict attention was paid during the integration process to ensuring that the technical conditions of TYPO3 would remain in place and also function in the future. The cooperation with eCentral creates a buffer, so to speak, between Cavok and TYPO3 and ensures stability in both directions. Gunter Leonhardt, managing director of PEAK-14 Ltd., comments: "This factor is particularly important for us and our customers. It means that in the event of changes and software updates, compatibility with Cavok is still guaranteed at all times. Cavok is also enormously secure during updates - another plus in terms of stability."
Easy communication between the systems
But how do the two systems actually "talk" to each other? To make the communication between the two programmes work, eCentral has developed a plug-in. The integration of this interface between Cavok and TYPO3 makes it possible for editors to simply drag and drop from Cavok the assets needed for their content creation. They simply need to click on the respective image or video in Cavok, drag it onto the TYPO3 interface and drop it into a predefined frame there. This drop-area box is part of Cavok and is kept up-to-date by PEAK-14 so that it continues to function smoothly even when updates are made. Gunter Leonhardt adds: "We also offer solutions like the drop-area box as part of our Cavok DAM system for other content management systems."
Cavok offers users the great advantage of filling and improving their assets with their own metadata when creating content. Thus, finding and reusing assets is very easy. Metadata can contain information about licences, for example. When assets are dragged into TYPO3, the metadata are automatically transferred and can be changed locally in the CMS if necessary. For example, there may be small differences for measurement dimensions in Germany, Austria and Switzerland. Companies doing business in the German, Austrian and Swiss region thus need to record this in their metadata. These metadata are either stored several times in Cavok for each country, so that they are automatically entered correctly when transferred to TYPO3, or the users can overwrite them manually in TYPO3, depending on the application. If an asset is removed from TYPO3, the metadata is not lost but is still available in Cavok as original metadata.
"For the integration of the assets including metadata, no passwords, security queries or intermediate saving are needed. It is a simple and easy method and enormously timesaving for editors in their daily work," says Christoph Lauber.
Win-win-win situation
In terms of style and simplicity, the TYPO3 DAM interface is unbeatable. With a time-to-market of about one week, it is quickly rolled out, integrated and fully functional.
With the streamlined approach of integrating data via a plug-in, there is no need for extensive file adjustment. Multiple coordination between various parties - for example in the case of large internationalisation projects - are no longer needed. Metadata and assets can simply be taken from Cavok.
Ultimately, the integration of the plug-in is a perfect solution for all parties involved: At PEAK-14 we have the opportunity to provide our customers with a firm result, guarantee stability and expand our customer base. The customers themselves benefit from an enormous reduction in workload when creating content. And eCentral has been able to pass the TYPO3 DAM interface on to 13 other customers, so far, who in turn also benefit from the solution and give feedback to eCentral.
It is a real win-win-win situation.
For more information go to video (in German):