Image database software for companies - all you need to know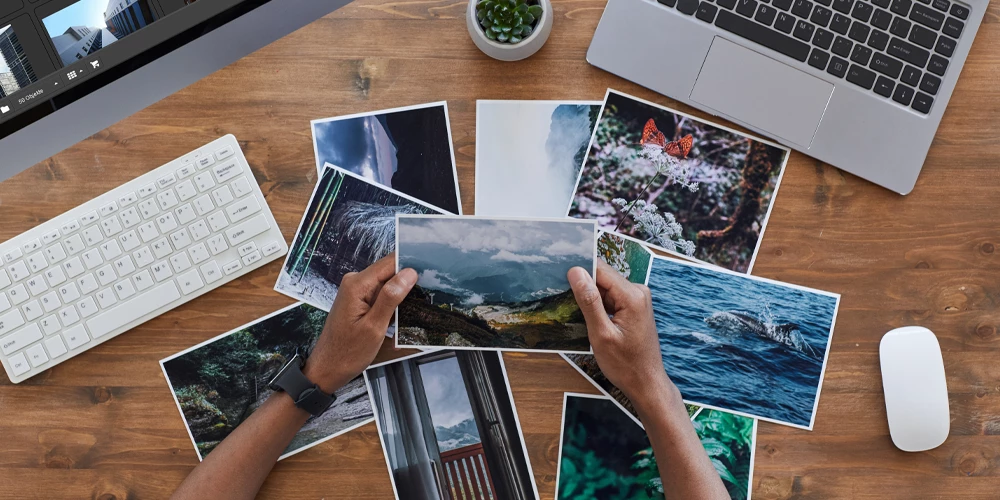 Due to the ongoing digitalisation, the amount of digital data and files in corporate sectors continues to increase. Those who want to keep track of their information need appropriate solutions. In this context, professional image database software plays an important role.

Why does a company need an image database software?
The centralised and organised management of digital media is the basis for many further tasks within an organisation. The core function of such software is to professionally store pictures and similar digital assets. In addition, an image database serves as a hub for all tasks that require media.
Photos, videos and other digital media are used in many areas in the modern corporate environment. An online shop is just one example for pictures being needed for presentation. Other purposes are the creation of professional flyers, brochures or social media posts, where a company's own digital image material needs to be embedded.
Image database software for different purposes

Not every professional image database for companies fits the same purposes. When choosing a specific image organizer, it is important to know your own requirements. On the market there is a range from small solutions for private users to software designed primarily for professional photographers to holistic systems for digital asset management, or DAM for short.
Information attached to an image is called metadata.

They are used to record data around the image and help categorise the image content.
The differences between the various professional image databases are mainly evident in the range of functions. One of the basic functions is that image management serves as a central storage location for digital photos. This helps you to organise your own photo data. For those who work professionally with photos and images, metadata are also important.
Metadata are attached to the picture and used for recording information on the photo and helps to categorise the image content. Professional metadata formats are IPTC, XMP or EXIF, for example. They contain technical data about the photo itself, such as the date it was taken or the exposure time and ISO value. In a DAM system, individual metadata can also be added, for example the item number of the product depicted, or for which purposes the image has been approved.
The image database uses the metadata of images to categorise the files. This makes it possible to carry out searches, for example by using keywords on image contents. Thus, it possible to find suitable photos with corresponding content. This is particularly helpful when it comes to large image databases. The programme then also serves as archiving software, as the software stores all the necessary information in a database.
A corporate image database, on the other hand, is also a collaboration software and integration platform. Usually there are interfaces to other software platforms used within the company. These may be the web shop, the ERP platform, the content management system or a software for the PIM, the product information management. Thus, Digital Asset Management for companies helps to organize and manage all digital assets, i.e. all media content, in a professional way.
Requirements for an enterprise image database software

Companies usually have specific ideas and requirements when it comes to the management and handling of digital data. One of the main requirements is that the software used helps to improve the workflow. This happens through automatisms and interfaces to platforms already existing in the company. If image databases lack such interfaces, additional work would be necessary. This in turn would reduce the advantage of a central image database software.
Accordingly, options for seamless integration into the existing IT systems as well as interfaces are highly required features for an image database in companies. This ensures that the advantages of image management software are applied in all areas. For example, by linking the PIM system, the product information stored can be directly linked to the product image, or updated images can be automatically played out to the web shop in the appropriate size.
Intelligent search functions find images not only by file name, but search by metadata.
One of the most important functions of image databases is an intelligent
search function
. This means that images are not only found by searching the file name, but also by searching metadata. Furthermore, there are platforms that can be used to manage all digital assets, including media files, such as video files or documents. In this case, we are no longer talking about pure image database software, but a platform for digital asset management.

Such software for digital asset management also offers extended functions that go far beyond those of pure archiving software. This includes, for example, the possibility of starting professional image processing directly from the database.
DAM systems also offer options for file sharing. Sharing digital content is an important functionality, especially in the corporate sector. In this way, fast access to the media files is possible across departments and locations. Above all, the constantly growing size of digital media files makes it difficult to share pictures or videos. With a DAM system files can easily be shared with external employees or customers. Without such a function, external solutions would be necessary. On the one hand, this would increase the workload. On the other hand, additional platforms would be necessary and the security risk would increase. External file sharing services transfer the sent files via their own servers. When using a digital asset management system for file sharing, the data always remain in the DAM system and the specified storage location.
How digital asset management is used in the field

In the following, we show you the many advantages of a platform for digital asset management. The process starts with a photographer or the person who saves a digital file, for example a photo, in the image management system. The system stores the associated information in a database and, if necessary, automatically pulls further information from other systems. This includes the metadata and, if desired, tags that are assigned when the entry is made.
Tags are short comments that are linked to the photo. They provide clear information about the content of the picture. For example, a photo of a child playing with a ball can be tagged with " child" and "ball". With the database's integrated search, it is possible to find this specific picture, as well as other corresponding images associated with "ball".
After the entry in the image database has been completed, the graphics design department automatically receives information about the new entry. The graphic designers prepare the picture according to the company's specifications. This includes the layout or adjustments for use in the web shop and for other corporate platforms.
As soon as the graphic designer's work is completed, other persons in charge receive a notification. For example, the marketing and communication department might use the new information for social media campaigns or other projects.
With these functions, digital asset management is a great succeeds in the respective company. Manual approvals, data transfers or notifying a contact are superfluous, as the DAM takes care of all this automatically. In this way, the platform acts as a central hub for content management. External partners and service providers can also be given limited access to the system. This makes sense if certain tasks are passed to external agencies, for example when it comes to organising advertising strategies.
Finding a suitable image database software for your own profile

In general, companies have various requirements for an image database. It is important to know the profile and choose a suitable solution accordingly. Professional advice is therefore often the right way to find an image database that exactly fits the company's needs.
For example, functions for central connection to external platforms are not always necessary. The same applies to extended options for image processing. Automatic workflows are not always required either. Smaller companies do not require such functions in image databases. In this case, lean photo databases are often sufficient for the administration and management of files. A digital asset management system can usually also be used as a pure photo database and later be expanded with additional functions or connected to other systems, as needed.
Please contact us if you are interested in integrating a professional image management programme or a comprehensive platform for digital asset management. In the course of an individual analysis and consultation, we will explore together to what extent our digital asset management solution Cavok could suit you as an image management programme or fully integrated central content source.