New release 4.6 makes working with DAM system Cavok even more flexible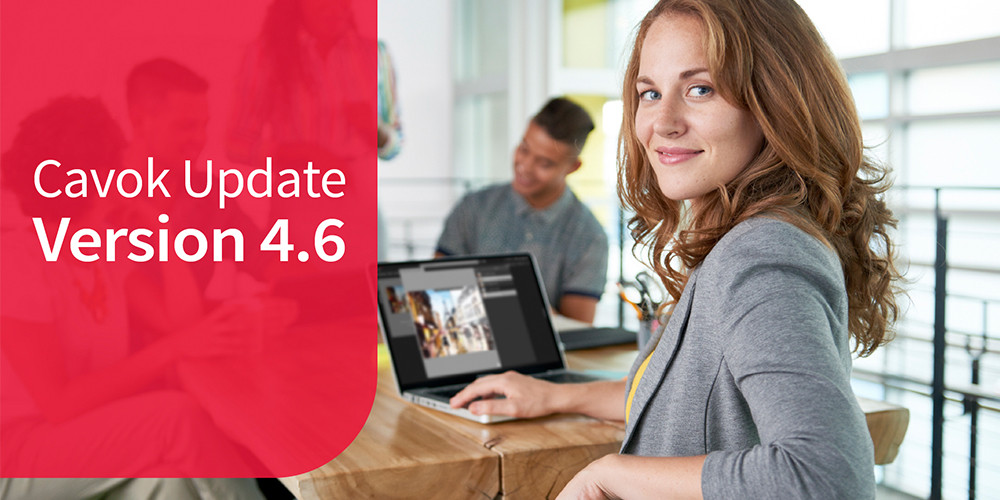 The Cavok digital asset management system has been updated to version 4.6, offering various exciting features. The system is now even faster and better performing. As a Cavok user you can look forward to an even more flexible working day.
Storing different file versions automatically and comparing them visually
When working with Cavok, revision files are now automatically created whenever changes are made. The base file always remains as the source file and "retrieval actions" from a backup are finally a thing of the past. For creating revision files in Cavok, users only need to define four parameters in the backend.
Cavok users can then view different file versions visually and chronologically. Thus, they can easily compare an older version with the current file or even two older versions by using a handy slider. Any former version can be overwritten and made the current one.
Creating and editing stacks
In Cavok 4.6 the "edit stacks" function has a new look. Stacks can now be created and edited much more intuitively. If you click on the new icon on the stack, the stack window opens, similar to collections. Files from categories and collections as well as files found via the search function can simply be dragged and dropped into the stack window. Files that are not needed can be removed with a single click. This makes it easier for users to create and edit their stacks when they use the function for images from different photo shoots on different subjects, for example.
Displaying 3D files visually
The visual display of 3D files is a completely new feature offered to Cavok users. For example, CAD files mainly used in the construction or mechanical engineering industry, usually require expensive programmes. All those employees involved in processing procedures, but without a CAD programme and licence can now use the new Cavok version to view corresponding files - just via the Cavok interface without having to install additional programmes or plug-ins.
As in a 3D viewer, models can be rotated, zoomed in or out and viewed in detail from different sides. The display can also be changed: As a user you can change the background colour, insert grid lines or switch between the standard view, the transparent or the wire view.
Anyone working with CavokWork no longer needs to worry about losing intermediate statuses when checking out assets. Files can now be conveniently saved on the desktop during the editing process. In addition, the standard programme for editing various assets can be predefined and changed at any time.
Windows and Apple Silicon users can now easily make files available via download link from their file server using the CavokDrop tool. For creating the download link files only need to be dragged and dropped from the file server to the CavokDrop App. Even afterwards, users can still edit content and files until actually sending the download link. Download links can be provided with a password and the number of downloads can be limited - an important factor in data security.
Another exciting feature is the read aloud function of texts. Cavok either reads aloud the entire text of a page or highlighted passages without the need for additional software or operating system tools - simply via the familiar Cavok user interface. If you do not like the voice that reads aloud, you can change it.
You can see all new features in our video: