5 ways DAM software improves collaboration in marketing teams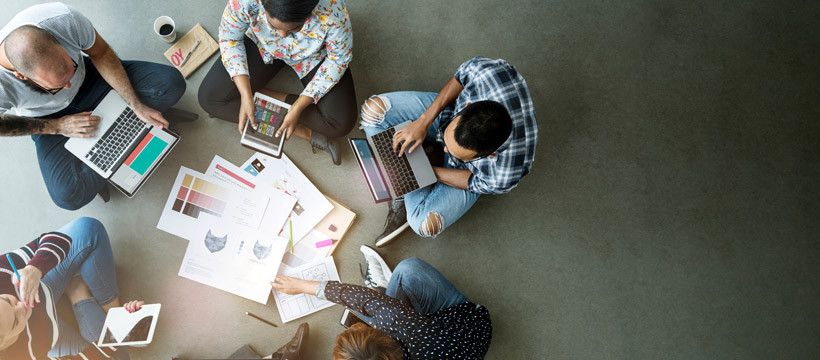 Marketers are no lone fighters. Even in smaller companies, the marketing department usually consists of a small team that deals with the wide range of tasks and channels. In addition, freelancers and external agencies support the marketing team. Besides teamwork, creativity and personal skills, the effective use of helpful marketing tools is becoming increasingly important in marketing. We show 5 practical examples of how digital asset management (DAM) software can take collaboration in marketing teams to the next level.

Shorter coordination rounds

There are usually many coordination loops before the next marketing campaign is launched. From initial thoughts and drafts to the finished result, various team members contribute their ideas and change requests. If everyone edits the file on their local PC and sends it to their colleagues with changes and comments, it can quickly happen that suddenly different files are circulating. But which is the current one with all the changes already included? With digital asset management software, the entire team can work directly on the same file, which is the single source of truth. Coordination can also be done directly on the file in the system. Pre-defined workflows determine the correction and approval processes. This not only makes the review process much clearer, but also makes it possible to speed up correction loops.
Dealing with language barriers among international colleagues

In international companies, marketing managers from different countries frequently work together. Often, they all need the same content, logos and images. DAM software makes the files available to all relevant team members. Most digital asset management solutions are available with multilingual user interfaces so that every user can intuitively find their way around. At the core of any DAM system are the metadata and tags that help to better structure and find the digital assets. Some digital asset management systems offer the possibility that these keywords are automatically translated into other languages, so that all employees can search for the content in their native language.
No need to send large files via e-mail

Many marketers know the situation: pictures and impressions, e.g. from an event, often have to be shared directly with the team so that they can be further processed for social media or other channels. Of course, the images could be sent by e-mail to the responsible colleague. But especially if several image files have to be sent, the mail attachment is often too large. It would be quick and convenient to send them via messenger services such as WhatsApp, but the quality of the images suffers. The quality is usually reduced by the provider when sending the images. But there is an easier way without reducing the resolution of the files: DAM software with mobile access - whether as an app or via the web browser - makes it possible to simply store the images in the right place and to tag them directly when uploading. The responsible colleague is automatically informed about the newly uploaded pictures. Also in many other situations large files or image collections have to be sent. Again, an individual link can simply be created in the digital asset management system to share the creative content securely and not clog up the email inbox. This additionally avoids the need to use other external services such as WeTransfer.
All colleagues follow the same order system

The larger a team, the more personalities and organizing preferences come together. If everyone stores their files on the central company server, chaos can quickly ensue. In a DAM software, you can define exactly which colleagues are allowed to make changes to specific files or the structure. Furthermore, certain metadata fields can be created as mandatory fields, so that they have to be specified directly during the upload. In this way, every user must follow the predefined rules and all files are easy to find again.
Not everyone needs a Adobe license
As a marketing professional, you often work with a variety of audio, video or image formats. Not all formats can be previewed by Mac or Windows. Often you need the right program for this, for which perhaps not every colleague has a license. Especially with creative files created with Adobe Creative Cloud, this is often the case. A digital asset management system can preview various file formats, such as PSD, INDD, AI or RAW data. With some systems, it is even possible to view the individual layers of Photoshop files. In this way, colleagues without the appropriate program license can also be integrated. They can leave notes directly on the preview, for example, and the colleagues from the graphics department do not have to export a PDF file every time and send it by e-mail in order to obtain feedback.
These are just a few examples of how digital asset management can improve collaboration in marketing teams. We would be happy to show you how our DAM system Cavok can support your team in a small product presentation.