The basics of digital asset management workflows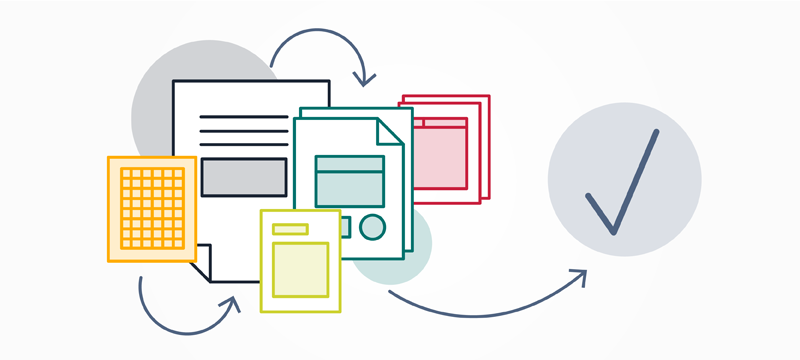 The main task of marketing experts is supposed to be the creation of creative content. But often they lose a lot of time in their daily work with administrative tasks and coordination. Digital asset management software and established workflows help the creative and marketing teams to perform at their best. This article provides an overview of what defines good workflows and how to set them up.

What is a workflow in a DAM system?

Digital asset management software allows users to store all digital assets in a single location. Workflows help to process them more efficiently.
A workflow describes a predefined sequence of actions to achieve a specific goal. In digital asset management software, workflows define and partially automate the stages of the asset lifecycle. They determine when and how the involved team members can interact with digital assets such as images, videos, layout or documents.
Each company and department may have its own requirements for efficient workflows.
How does a classic asset lifecycle look like?

Every project starts with a request or a creative idea.
This is followed by the creation of the digital assets required for it, which usually involves several drafts.
One or more of the asset drafts enter the review loop with colleagues, superiors or business partners.
With the feedback gathered, the draft is further edited and finally given to the relevant stakeholders for approval.
After approval it is distributed to customers and partners or published on the company's own website, social media channels or external media.
The asset can then be archived so that it can be used again or updated at a later date if necessary.
Which work steps can be defined and automated in the DAM?

Creation

Already during the creation of content, assets can be automatically enriched with additional information (metadata) in the DAM system. This facilitates the findability and reuse. The creation of assets with Adobe Creative Cloud programs is also particularly convenient thanks to a connection with the DAM system. Users can access all of the company's images from within the program or simply drag and drop them into the InDesign file, for example.
Coordination and Release

Who is allowed to view, comment, edit and release a file can be defined by rights (groups) and roles in the system. This means that correction and approval processes can be clearly regulated. Automated approvals, task lists and automatic notifications of updates also save employees time: Assets no longer have to be manually forwarded to other creatives.
Distribution

A DAM system can also automatically handle the conversion into the appropriate file format, as well as the automatic distribution to the appropriate systems such as webshop, PIM or CDN.
A DAM can keep track of all historical versions and changes for easy and error-free auditing of content that is updated regularly. If the usage rights of, for example, an image file expire, a workflow can be set in motion to avoid expensive licensing errors. Storing files centrally and enriching them with metadata makes them easier to find. In addition, time and money are saved because they do not have to be created or purchased again.
So, at each stage of the asset lifecycle, there are different ways to define and automate the workflow. Such workflows set up in the DAM system thus help reduce sources of errors and the workload associated with uniform processes. This allows marketers and creatives to fully concentrate on new ideas and creativity.
How to create a DAM workflow?

How to find the best DAM system?
This article helps you to choose the best suitable DAM system for your purposes:
Read article
Workflows always need a trigger and clearly defined subsequent actions. It is important to always ask yourself what purpose the workflow should serve. What should the desired end result look like? When it comes to implementing the workflows technically in the DAM, the company's own IT department and/or the developers of the DAM system are usually involved. It is important to test and verify workflows. Once you have decided on a DAM system, talk to its manufacturer or trained integrators. They can help you create workflows that are right for your business.
Would you like to design your workflows more efficiently? Our team of DAM experts can help.