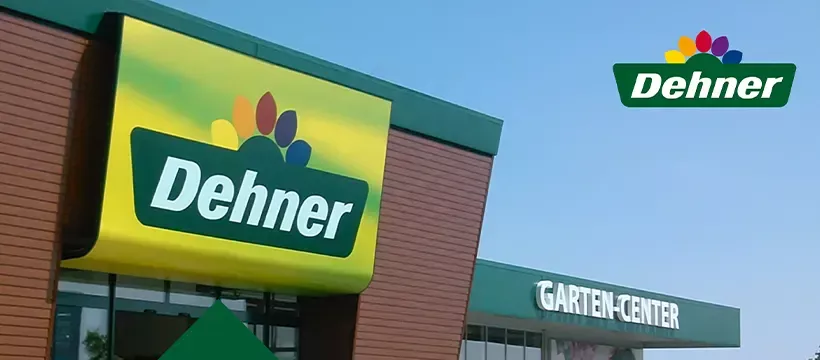 Page 1 of 2
Dehner Garten-Center & Zoo has been using cavok's digital as-set management system for years, and has conse-quently integrated it into its own system environment and internal workflows. What was initially primarily used as a solution for managing media files is now used as an important building block for creating advertising material. One of Dehner's earliest develop-ment steps was to integrate cavok into the media production system Neoseven. The user report gives an overview of how cavok has grown from purely being management soft-ware to become an important building block for the creation of advertising material.
Dehner Garten-Center GmbH & Co. KG (www.dehner.de), which has its head office in Rain near Augsburg and over 125 garden centres in Germa-ny and Austria, is one of the biggest garden centre groups in Europe. By consistently focussing on customers, the family business has grown to be an industry leader over its 70-year history. Dehner has now been owner-managed for three generations and continues to pursue a company philosophy that builds on quality and expert advice. With more than 5,000 employees, the Dehner group generated revenue of EUR 691.4 million in 2016.
Dehner started to think about the topic of digital asset management (DAM) when Anne Hahnenstein moved from a publishing house to the garden specialists to take over the Advertising department. She has since become responsible for the whole of marketing at Dehner. "In publishing, images and text basically make up the product. In retail, they're just extra master data for the item," says Hahnenstein, "but just as in publishing, advertising retail companies also need media management that makes sense. Otherwise, you have expensive shoots and then can't find the images again or have to clarify the same licensing questions again and again. And at Dehner, some mages are used for advertising every 14 days," Hahnenstein continues. "Sometimes, product images come from Purchasing - often from the manufacturers themselves - and mainly from Marketing. We therefore started market research for DAM systems to implement central management for our media."
They decided to go for the 'cavok' DAM system. Arguments in favour of cavok from Dehner's perspective were the great presentation, clear dedication of the manufacturer and the solution's value for money. As well as aditional area of use for a DAM system - central data management - cavok has well-developed features to automate workflows and avoid duplicates. However, cavok's big strength is that it can be deep-ly integrated into other programmes like web shops, design programmes or CMS systems. cavok's architecture is based on a SOAP server (simple object access protocol) - true to the motto 'cavok doesn't have an API, it is one.' cavok's reduced core con-nects a layer of open source modules: This gives ca-vok the ability to adapt and integrate, which barely any other DAM solution can do.
Automated creation of advertising material
"We used the system to map our special requirement. cavok is now a central building block for how we create advertising material in an automated way."

Anne Hahnenstein
"For us, it was a way forward until we integrated the system into our specific world of IT, but it paid off," says Hahnenstein. "We used the system to map our special requirement. cavok is now a central building block for how we create advertising material in an automated way. And the solution interface is intui-tive to use - which is really great because users have varying prior knowledge." Today, more than a dozen marketing employees use cavok. Around 20 Category Management employees at Dehner are to follow. These are employees who are responsible for the diverse product range and load product photos, graphics and text into the system. But a number of Dehner service providers and agencies also use the central DAM system - in exchange with Marketing. Currently, around 95 external ed-itors, graphic designers and photographers have access to cavok.